Over the years, I have tried out various trading softwares that claimed to work, but they either failed miserably or didn't meet our needs. However, of the few softwares that I do like and are still using, MarketClub is the one that works the best for me.
Marketclub has some of the best trading tools available to traders, helping you to find trending stocks. Rather than listing out all the features that this software offers, I would like to emphasize on the ones I find the most useful, which helps me to pick trending stocks.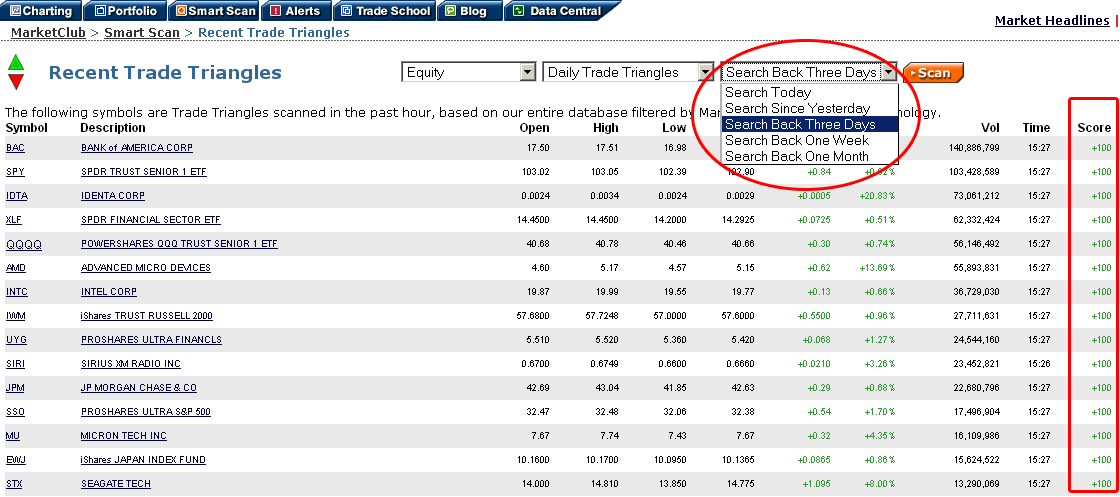 Chart Portfolio
The charting software includes over 230,000 symbols. It allows me to personalize our portfolio for the symbols that I'm following and create charts easily. Over 23 technical indicators can be applied, including Bollinger Bands, Moving Averages, MACD, Stochastic, Parabolis SAR and more. The charting platform can be downloaded and able to browse data in almost any format, such as personal programs like spreadsheets.


Trade School
There are a bunch of workshops that MarketClub offers from world class traders and investors like Linda Raschke, Mark Cook, and Chuck LeBeau. These tutorials cover various trading techniques and information on foreign exchange, futures, day trading, money management, stocks, psychology, indexes, options and more. They are available in audios and pdf format that you can download.

Trade Alerts You can setup trade alerts that you can receive in your inbox. Here are some of the options you have.
1. Price Break Out/Price Break Below
2. New Daily/weekly/Month Trade Triangles
3. Charts that show positive scores
4. Stocks making weekly, 3 week 4 week or 52 week highs and lows
5. Stocks that are showing strong trending patterns when 10 day moving average is above 20 day moving average and 20 day moving average above the 50 day moving average. (10dma > 20 dma > 50 dma). You can pick up profitable trending stocks with this alert.
6. Stocks that are showing very weak trend patterns. 10dma < 20dma < 50dma. If you are shorting stocks, you can pick up profitable stocks to short with this alert.
My Review
This MarketClub review is based on my 5 years of experience using their trading product for swing trade. There are many more other features that MarketClub offers which are beneficial to me such as trading alerts, and stock portfolios. MarketClub is suitable for any type of trader, whether you are a short term swing trader or a longer term investor.
The system is not perfect. It sometimes gives buy signals a little late so you could miss a portion of profits. Their charting platform is a little complicated which requires you to spend a couple of hours to learn and take advantage of all the features.
Overall, I am very pleased with the software and encourage every trader to try out this trading system.